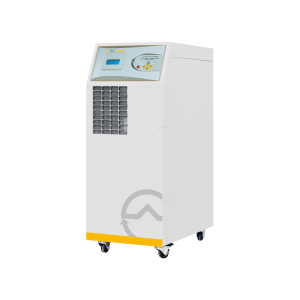 Types of UPS
1.    Standby UPS: This is the most basic level of UPS. If there is any
problem with the electricity (surge, sag, spike, blackout or brown out) the
UPS will automatically switch to battery power. This has a 6-10 millisecond
switch over time.
2.    Line-Interactive: This is a secondary level that is better suited
for protecting higher end equipment. This level of UPS has Automatic Voltage
Regulation and is designed to regulate surges, spikes, and sags in utility
power to keep it at its correct voltage before going to battery.
Additionally, this saves on battery life. There is a 6-10 millisecond switch
over time.
3.    On-line: This is the top level of UPS on the market today for
"Mission Critical" systems This UPS is designed to condition the power
coming into equipment and includes 3-phase UPS systems.  Online UPSs provide
pure sine wave, undistorted electricity and filters out line noise as it
flows into your equipment. There is no switch over time.
Power Requirement
One of the most important things that you must know before buying a UPS is
your "power requirement". which is the addition of the power consumed by
various electrical appliances. If the total current drawn by connected
equipment exceeds the UPS system's capacity, the UPS becomes overloaded. If
the UPS is overloaded, it will drop the load during an outage instead of
switching to battery mode. When choosing a UPS system it is a good idea to
also plan ahead to cater for expansion so that your investment in a UPS does
not outgrow your future needs.
Power Factor
A UPS systems with a high power factor  makes more efficient use of your
facility's power infrastructure and available space, allowing you to connect
more equipment to each UPS system and circuit. While a 10,000 VA UPS with a
0.7 power factor will support a 7,000-watt load, a 10,000 VA UPS with a 0.9
power factor will support a 9,000-watt load, an increase of 2,000 watts
without a corresponding increase in circuit requirements.
Back Up Time
A UPS system is often used to provide uninterrupted power after mains fail
until a generator starts up. The backup time is proportional to the load
that is connected to the UPS. The more the load, the less the backup time.
You can have backup time as little as 5 minutes which will enable you to
shut down the equipment connected to the UPS if there is no backup generator;
or many hours of backup time so you can keep your equipment running until
mains power returns. Longer backup time and higher protection levels cost
more than short backup times and lower protection levels.
Do you need more information? We are ready to help you.
Please contact us for further help and information.